(Return to "Tanya's Working Holiday" index page)
(Return to "Photo Albumn" page)
(Return to "Dear Diary #19")---(Return to "Dear Diary #20")---(Return to "Dear Diary #21")
(Return to "Dear Diary #22")---(Return to "Dear Diary #23")
A Trek around Europe
From July 2005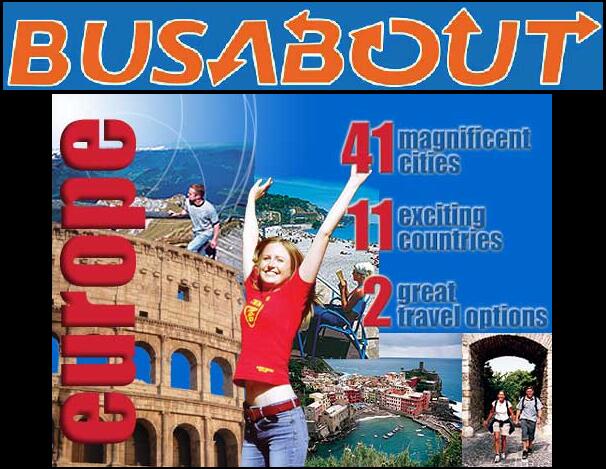 (......and click on the above picture to to BUSABOUT'S Official Web Site)
Friday 24th June 2005 - and it is all starting very soon!!!
For this reason, the layout of this page has been changed
Immediately below is Tanya's complete itinerary
detailing where she will be day-by-day and what she will seeing and doing
Towards the bottom of the page is all the pre-trip information
including Busabout details, the coaches, emails from Tanya, her ticket, etc



Below are listed the tours and travel that Tanya has booked

ACCOMMODATION

These links are also from Tanya's site,
and give as much information as possible on where she will be staying

BUSABOUT LINKS

These links are from BUSABOUT'S web site
and the pages give a brief story on each of the cities plus lists the main attractions
and suggested tours along with one or two photos



TANYA'S LINKS

These are the pages from Tanya's own web site and will include all her "Dear Diary" notes,
emails and of course, the hundreds of photos she will take!!!
......and some "extras"

PHOTOS OF TANYA

By far the best way to look at "Tanya's trek through Europe" is to look at the albumns below
But if you want to just check out the pics of Tanya, well click here
Every photo of Tanya on one page!!! - and there's 360 of them!!!



TEXT MESSAGES

As well as emailing and sending photos, Tanya has sent lots of texts
Click here to read her daily notes - updated to Friday 30th September 2005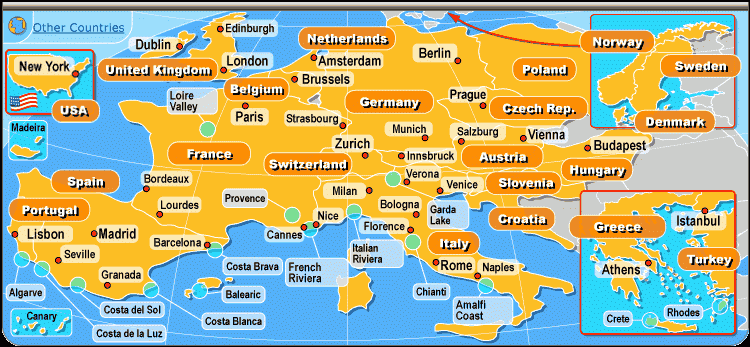 ---
Pre-trip Information
---
As can be seen from the notes and details below,
Tanya is organising a trip around Europe during the second-half of 2005

She is planning to start travelling on Monday 4th July,
when she leaves London and heads to Spain

Below is the 2005 Season brochure from BUSABOUT
and this explains how their
"flexible transport network"
works around Europe

Also below are emails from Tanya which give some details on her plans,
and these will be updated as the weeks go by and her plans become more definite
---
Busabout Brochure


Page One
Cover
"Europe - Your Adventure - Your Way"

Page Two
What is BUSABOUT?

Page Three
Map
"36 magnificent cities - 12 exciting countries"

Page Four
Where to begin?

Page Five
Travel Options - Excellent Extras - Easy Links

Page Six
"Europes Hottest Locations 1"

Page Seven
"Europes Hottest Locations 2"

Page Eight
Travel planner - Accommodation

Page Nine
Timetable

Page Ten
Excellent Extra - Morroco
Excellent Extra - Croatia

Page Eleven
Excellent Extra - Greece
Excellent Extra - Italy
---

Tuesday 3rd May 2005
"Busabout takes the lead with new coaches"
Busabout has invested in a brand new "state of the art" fleet of luxury coaches for the 2005 season
Built exclusively for Busabout, these DAF SB4000 Marco Polo coaches have a number
of exciting features for the enjoyment, safety and comfort of Busabout travellers
These include:-
1 - Six channel in-seat entertainment allowing you to enjoy your choice of music channel
or tune into our on-board DVD
2 - Three point seatbelts on every seat for the ultimate in comfort and safety
3 - Comfortable reclining seats
4 - Central locking to make sure your luggage is safe at all times
5 - Climate control
6 - Extra dark tinted windows allowing you to enjoy the scenery of Europe without the glare!
7 - Eye-catching new livery - you'll never miss our buses!

---
Tanya's Ticket!!!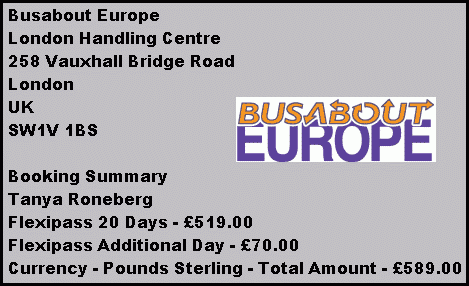 ---
Emails from Tanya - Countdown to Departure!!!

On Monday 7th February 2005

"I go to Spain on Monday 4th July for "The Running of the Bulls"
Then on Friday 8th July, I go to San Sebastian and will join up with BUSABOUT
and go around Spain and Portugal
On Thursday 28th July, I fly from Madrid to Berlin
and connect back up with BUSABOUT there
I then come down through
Germany - Czech Republic - Austria - Hungary - Italy - France - Switzerland
and to the Greek Islands
Plus, depending on what happens in Holland with Brett and the Baseball World Cup,
I might have to fit that in as well!!
The dates for the World Cup at the moment are from Saturday 3rd
to Sunday 18th September 2005
Plans could change!! - but this gives a pretty good idea of what is happening
Tanya"
......and on Tuesday 8th February 2005
"Fun is an understatement I think!!
It will be exhausting jumping on a bus every 2-3 days
and living out of my backpack and in hostels for three months
But it will be totally worth it!! - trip of a lifetime!! - another one anyway!!
I will be heading back to London afterwards to work some more"
......and on Tuesday 22nd March 2005
"I will not be going back to "Home Sweet Home"!!
The thing with going away for so long is that I don't get to keep the house!
I could pay the £912.00 rent but that would be a big chunk out of my savings
so I will have to find a new place when I get back
Going to doss for a while with friends and then get organised again
So that can just be a question mark for now"
......and on Thursday 14th April 2005
"Budgeting for her Busabout Tour of Europe
Cutting down my budget from £50 to £30 from this week and I seem to be going okay
Won't be having much of a life tho until I go!!
Have a few things booked but no just going out for dinner or movies and stuff
- need the cash for the trip!!"
......and on Friday 22nd April 2005
"It's just ten weeks until my holiday (Busabout Europe)
- I can't belive how soon it is!"
......and on Wednesday 18th May 2005
"About six weeks until I go - frigg!
Three months of no work!! - just holidays and beaches and foreigners!!"
......and on Thursday 2nd June 2005
"Just thirty-two more sleeps until I go on an eighty-two-day European holiday!
How awesome is that!!
Could you do it? - bearing in mind bus rides and hostel living for that whole time!
But the sun and the sights and the new people - I won't forget it in a hurry I expect"
......and on Tuesday 7th June 2005
"I went for my first tanning session today
- want to get a bit of a base before I head off because it is already thirty degrees in Spain
and I will just fry otherwise!!
I know it's not the best idea but there you go - not much else I could do
I will have sunnies and suncreen and a hat but I aint wearing long sleeves!!
- I will be in bikini's and skirts/shorts!!"
......and on Thursday 9th June 2005
"Sunday I might go to Lillywhites and get some boardies
- I need to have some to swim in when I go away because I don't have any yet
And I want to get a few more singlets too and one more skirt and some three-quarter pants
but that is it
All ready to go!! - and just twenty-five more sleeps!!"
......and on Sunday 12th June 2005
"After that I hit the shops for some Busabout Europe trip stuff
Got new runners, three-quarter pants, a skirt, some boardies, summer pjs
and then bandaids and contact solution and nail brush etc etc etc
Got a couple more things to get and then I will be ready to go!!"
......and on Thursday 16th June 2005
"Lunch time and I am off to get my bikini's altered - just need the straps pulled up a bit
Fourty degrees in Pamplona (Spain) on Saturday so I will be using that pool - bring it on!!"
......and on Thursday 23rd June 2005
"I did have my stand up tanning session this morning
I am definately not particularly tanned
but I am not the almost transluscent white that I was before I started!!
- and that is all that I wanted - just a bit of a start because I will sizzle in Spain otherwise
Starting to get really organised now
I am still looking for that damn travel hairbrush but I found one
and I am buying it on the weekend - just waiting for the half-price-sale to start!!
Have to buy a sleeping mat because in the tents in Pamps it is just the ground
and our sleeping bags which might be a bit painful on the old back
I found one for £4.00 and for that price I can leave it in Spain once I am done there"
......and on Friday 24th June 2005
"Busabout Tour - continuing to get organised!!
I have everything in my backpack that I want to take but I know it is too much
and tonight I will be going through it all again and sorting it out
The weather is so good here at the moment that I am wearing all my holiday stuff
- skirts and singlets etc
So with things in the wash and being worn its a bit tricky keeping track of what I have to take!!
Anyway, it's looking pretty good"
......and on Monday 27th June 2005
"Busabout tour - just seven sleeps to go!!!
Re text messages while I am away - I can received txts for free
but it costs me 50p to send them - so you mightn't be getting them all that often!!
Re internet cafes while I am away - they are apparently very, very, very expensive too!!
Anyway, you will hear if anything happens - which it won't!!
I will be taking a phone card too so you are probably more likely to get a call once a week
- and knowing me I won't be able to help myself and you will get texts
and I will probably have to go without food to pay the bill!!
This week will just be spent seeing people off
- Aaron and Nathan and Jason and Karen will all be gone home by the time I get back
And having dinners and lunches!!
And going the pub for my leaving do on Saturday
By the way, Ella, Lesley, Suzi, Claire and Larna will still be here when I get back from Europe,
but pretty much everyone else will be gone - it will be strange!!"
......and on Thursday 30th June 2005
"Well, the Busabout tour starts very soon
and I am trying to be motivated to work but it is hard!!
I am making chicken rolls for the twenty hour bus ride to Spai
We are on the ferry for some of it though - from Dover to Calais
but roadhouse food is always expensive and is always crappy!
Plus I still have 'squeezy' Vegemite that you sent me ages ago
- I only use it when I go away and I haven't been away in ages
Another going-away party last night - there is just so many - I don't like it!!
Crappy weather at the moment so I can't sit in the park!!
- but I am heading to the 'Spain' sunshine very soon!"
---