Tuesday 16th to Friday 19th August 2005
TANYA'S-
DIARY
Venice
Over 87 x Photos!!!
This page includes 63 thumbnail images
and simply click on the image to see the photo

We arrived two hours late after a major traffic jam outside St Johann.

I was walking to my room and I heard my name called - I turned to find Emily running over.
I had said goodbye to her and Marty so many times and then I would arrive at a place and they would be there!
I dumped my stuff and went and had a drink with them.

While I was ordering my dinner I ran into Amy (from Prague and Cesky)

I had a chat to her and then back to see Marty and Em and Lisa.
The girls went to bed and I chatted to Marty and his mate for a bit before heading off to bed myself.
Marty wouldn't say goodbye to me though - he reckons he has said it too many times already!
I did manage to get a hug out of him though.

I didn't have a great night sleep though - my roomate decided to bring a girl home - lovely!
I let them know just what I thought but it didn't make much difference.
After my loud roomate left on the bus I snoozed for a bit then got ready to head into Venice.

I met some of the girls that had been on my Busabout bus and spent the start of the day with them.

Tanya is in Venice!!!

------

------
------

Views of the City---

--------

--------

......and more views---

------------

------------

......and, of course, the gondolas!!!--

My first view was lovely!!
Bridges and people and market stalls.
There was barely a cloud in the sky and it looked just like I thought it should.
It had a different feel to Brugge and Amsterdam even though they both have canals too.

We wandered and went in shops and got very excited about all the lovely jewellry and masks.

We made our way to the Grand Canal.
Views of the City---

--------

--------

Transport in Venice #1---

Vaporetti = Bus!!!
......and this would be like a "Bus Stop"!!!

A Ferry Station
We jumped on the Vaporetti (bus) Number One and went up to Lido - the island with the beach.
We didn't get off because we were just admiring the views.
St Mark's Basilica---

----------

----------


......and Tanya in front of St Mark's Basilica
Note - see the update below for The Rialto Bridge on Tuesday 2nd December 2008
St Mark's Square---

----------

----------

The Belltower---

----------

We got off at St Marks Square and went and met the girl's friends.
We took a lot of photos and then I wandered on my own.

We had made plans to meet tomorrow though for our gondola ride!!
Views of the City---

--------

--------

I didn't care where I was and just made turns here and there.
The Rialto Bridge---

......and Tanya, the Bridge, and a gondola---
---"PERFECT !!"
Note - this page was updated on Tuesday 2nd December 2008
I came across the Rialto Bridge which was the first bridge over the Grand Canal.
It was gorgeous and had great market stalls which I perused.
The Bridge of Sighs---

I wandered some more and came to the Bridge of Sighs which had scaffolding on one side but the other side was nice.
Apparently Indiana Jones ran over it in one of his movies.

I found my way back to the bus stop and got back to the campsite.

No one had moved into my room yet so I had it to myself - yay!
I wrote in my journal and had a chat to Dad on the phone.

Tanya on the "glass island" of Murano
......and Tanya (and Sharon) with her piece of Murano glass

(three photos)
(NOTE - these photos added on Saturday 15th October 2005 - after Tanya had returned to Cairns)
My first stop the next morning - after a fantastic sleep in my single room! - was Murano.
This is the glass island of Venice.
I took the long way out (one hour) because I wanted to see as much of Venice as I could.
The ride was lovely - past churches and old buildings.
We also went by other small islands.
I went to a glass blowing display which was quite cool.
The guy made a bowl and horse rearing up on its back legs - very clever and very fast!!
I made a gift purchase.
Transport in Venice #2---

"Fast" Vaporetti = Taxi!!!
I then went and had a gelati while waiting for the Vaporetti back to Venice.
I took a faster one this time back to Plaza de Roma where I got the Number One again and headed back down the Grand Canal.
I stopped at the Rialto Bridge and took some photos.
I brought some glass necklaces at the markets that I had seen Amanda come back with.
A Venetian Mask - and click on the Masks for the details


......and here is Tanya's mask

(four photos)
(NOTE - these photos added on Saturday 15th October 2005 - after Tanya had returned to Cairns)
I then went back to a shop that I had seen yesterday and brought a Venetian Mask!!
It is beautiful and I really hope it gets home okay.
Transport in Venice #3---

Gondola = Limousine!!!
Tanya on her Gondola Ride - "...and it was a lovely ride"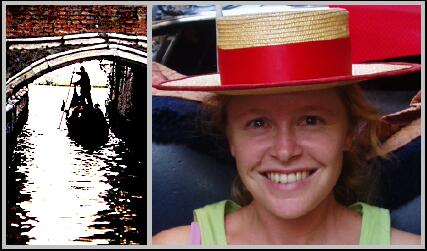 The Gondolier and Tanya---and during the ride

-------

Champagne!!!

Tanya and ???---During the ride---??? and ??? and Tanya

---Tanya during the ride---

Photos in "Black-and-White" and "Sepia"


------------


------------


I then stopped for a fantastic coffee before getting back on the Number One and headed down to St Marks Square to meet everyone for the Gondola Ride.
There were five of us so we only had to pay twelve euros each.
We all took turns in the love seat for the 'kodak-moments' and it was a lovely ride.
Views of the City---

-----

-----

-----

During the Gondola Ride---

Red velvet curtains---"A kitty in the window"

We were floating by a residential area.
During the Gondola Ride---

Tanya and The Rialto Bridge
Our gondolier took us out in to the Grand Canal by the Rialto Bridge and I got some great shots.
He told us that the bottom floor of nearly every building is not used because the water floods all the time.
During the Gondola Ride---

Cassanova's House
We also went by some lovely churches and also past the house where Cassanova lived.
It was so peaceful and really nice to be away from the busy touristy spots.

The BYO champagne that we brought was nice too!!

After that we wandered around a bit and then I got back on the Number One and cruised back to where the bus met us.
The sun sets over Venice---

The Canal, Rialto Bridge and Gondolas


The Gondoliers
......and night falls and Tanya's day in Venice is over

The sun was going down and the colours were gorgeous!!
The singing Gondoliers come out at night too and it was great to hear them.

I got the bus back.
Two Busabout buses had come in that day so I expected new people in my room but I was still on my own - excellent!!

I found Cherie and Kara (from Salzburg) and chatted to them for a while.
Cherie had been in St Johann with Court and Troy and Scott and Blake and Ashley and had as much fun as I did with them.
A postcard from Tanya


"Venice beats everywhere I have been so far
and the places I have yet to go will have a tough time beating it!!"
Then it was time for a repack and sleep to get ready for my flight to Athens tomorrow.
---