Wednesday 3rd to Saturday 6th August 2005
TANYA'S-
DIARY

Cesky Krumlov and Vienna
39 x Photos!!!
This page includes 31 thumbnail images
and simply click on the image to see the photo
Cesky Krumlov is a gorgeous little town - very little in fact!!
We walked around it in about 30 minutes!!

"The City Gates"
There is a Castle and you have to walk through city gates to get in to The Town.

Tanya's hostel - "it is built in to the rocks!"
Our hostel was inside The Town which I thought was quite cool.

Views over the City (two photos)
The whole town is so untouched by time that all of it is world heritage listed!
The Castle and The Vltava River---

We went for a bit of a walk when we first arrived and there is a river (The Vltava River) and lots of water activities - canoing and rafting and kyaking etc.

---Tanya and the weirs on The Vltava River---

There are a few man-made weirs so we watched people come a cropper over them for a while before heading back.

The hostel put a keg on for the new arrivals so we had a few and played some table tennis and then we decided to head to dinner.

Oh, once again I was in a room full of boys and me the only girl!!
Out to dinner---

Tanya, Joe, Matt, Matt, Christy and Paul
We had a nice meal then headed out to a bar and had a bit of a dance.
And yes, there was 'a pole' and I gave a few lessons - the boys were hilarous and it was good fun.
(NOTE - click here for all the details of Tanya's Pole Dancing Classes)

I had a good night's sleep with the sound of the river outside my window until about 5.30am when one of the boys got home and promptly began to snore up a storm!

I got up and a few of us went to a little bakery for breakfast.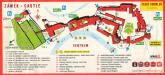 Map of the Castle grounds
Cesky Krumlov Castle---

(three photos)------

(two photos)

----------

----------


---

Tanya outside the Castle - and having a look around

The Gardens and Fountains at the Castle---

-----

-----

I wandered around a bit more and got some photos of the Castle.
It is amazing the way that it is built out of the cliff - you will see from the photos.

Then I went back to the hostel and met up with the rest of the group - twelve in total - who had organised to go rafting in the river for the afternoon.
The tour company drives you out of town upstream about 15kms and then leaves you there to get back on your own.

We had an absolute ball!!

I was in a boat with Dunnie, Ian, Nick, Becks, Shelly and Jose and our boat was by far the funnest.
Christy was in the other boat and she didn't want to get wet so she wasn't really up for much.

It was an interesting journey with hardly any rapids so we had to make our own fun.
We did spontaneous 360's in the boat, took the cross country route whenever there was an option, rowed backwards every now and then, went against the current and basically just mucked around!!

We saw a man in a red velvet dress split to the thigh and there was a big factory/plant type thing that we passed with a pipe with a pipe spurting out god knows what!!
We were doing our best to avoid it but the boys had other ideas and rowed us straight at it - much screaming later they eventually steered us away from it.

I also spotted a swing so we pulled in and mucked around on that for a while too.

Now the rapids are very, very, very tame and there was only five man-made weirs to go over.
We had been told not to row over weir number six and to walk around it.
We lost count a little bit and came to a rapid with a bridge over it and a big yellow sign with red writing saying raft and pointing down a section of the weir.
We headed that way and then I realised it was number six and started yelling out to stop and as we got closer we couild see it was just a straight drop and we started paddling backwards and the boys didn't quite realise and were still rowing and with all that mix up we ended up getting stuck on the top of the drop teeting on the edge!!
Half hanging over!! - like you see cars do in movies!!
The boys were holding onto a wall and we were scrambling over each other and them to get out as fast as we freaking could!!
We were all a bit shook up!!
It wasn't a big drop - about 1.5 metres but it was straight down not sloped and we would have just nose dived the rocks!!

There were lots of locals that decided to come up and take photos of us - I guess we must have looked a sight!!

A nice lady came and said that she had gone over a different part of number six earlier that day so we all got back in the raft and went over it.

It was a bit of excitement anyway!

We got back to town about five hours later, thirty minutes behind the first boat, and went back to the hostel for a shower and dinner.
We had a nice dinner and then an early night - we were all pretty stuffed.

I had a 'shit sleep' again because Mr Snorer was going like a steam train again but this time he got in at 11.00pm!!
I picked up my doona and went and slept on the couch!
Views over the City---

(two photos)---------

(two photos)
......and looking around Cesky Krumlov---

----

----

----

Up early for more wandering and photo taking.

(two photos)--The bear pit at the Castle--(two photos)

There is a bear pit in the Castle with three big bears in it but everytime I had been there they had been hiding.
All three of them were out this morning so I was able to get some shots.
They look cuddly but I bet they aren't!!

A postcard from Tanya - about to leave for Vienna
Back to the hostel for breakfast.
The restuarant does a cheap fry up so about ten of us got together for one of those and then we were on the bus to Vienna at 11.30am.

We crossed the Czech Republic/Austria border and the guard got on.
We all wanted stamps so he gave the stamp to one of the passengers to stamp them.
When they got to me, he said his coffee was getting cold and he had to go - so I got the last one - half the bus missed out but not me!!

Jose, Tanya and Shelley at Hostel Bar

Marty, Nick and Dunnie---------

Becks and Nick
We got into Vienna and headed to the bar for our free welcome drink.
We ran into Emily and Marty which was excellent and it was a chance to catch up before we all go our separate ways again.
We had a few drinks and then hit the sack.
We had an 8.00am bus to Budapest the next day.

Budapest tomorrow - can't wait.
---