Sunday 17th to Tuesday 19th July 2005
TANYA'S-
DIARY
Seville
67 x Photos!!! - and - 1 x Video!!!
This page includes 53 thumbnail images
and simply click on the image to see the photo
Stinky hot Seville!!

--The Time --- and --- The Temperature--

It is meant to be the hottest place in Europe and it definately is.
They have flashing signs with the temperature-and-time and on the last night there I took a photo at 8.44pm at night at it was 40 degrees!
Thats hot!!

Anyway - it was an eleven hour bus ride to Seville but two movies made the time go faster.
I also had a seat to myself the whole way which was great.

Tanya enjoying her paella --- and here it is
"so yummy!!"
We checked in and I was rooming with four girls and one of them I had met in Barcelona so I chatted to her a bit and then we went out for dinner to a place nearby and had paella.
It was really, really good - just veges and rice but so yummy.


Rose (two photos)
In the morning the rest of the room left except me.
There is a lady on the bus who is now a ride ahead of me.
Her name is Rose - she is fourty-six and a real pain.
Her heart is well and truly in the right place but she is such an Aussie sheila and she has a story for everything and a complaint for everything (eg, I´m hot - well, you knew we were coming to Seville!)
Anyway, she latched on to me which was okay - but she is a close talker (for those who watch Seinfeld!!) and every step I took away from here she got closer.
Eek - it was going to be a long few days!!
Tanya's ticket for the Bullring Tour and Museum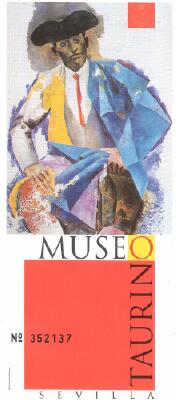 Tanya in front of The Maestranza Bullring - Plaza de Toros
Tanya and a Matador outside the Bullring


Inside the Bullring --- and Tanya checking it out

We went to the bull ring for the tour there.
It was only short but the ring in Seville is the second oldest in Spain.
The tour was really good.

They have a complete operating theatre in the back rooms in case anything happens to the matadors.

One thing that I did find out though is that if a bull kills a matador the bull is killed for being dangerous.
What I don´t like though is that they also kill the bull's mother so she can´t produce any more dangerous bulls!!
Bulls' heads mounted in the Bullring Museum--

---------

"ISLERA"
There was a poor cow's head mounted up in the Museum - I just thought that was awful!
They also sell the bulls for meat after the fight and it is very expensive to eat.

A painting of a Matador

In the Matador's Chapel--------"The Oracion of the Bullfighter"

The matadors get paid 60-75,000 euro for each fight ($94,500 to $118,000 Australian dollars)
That would be nice but I suppose it is a dangerous job!
--Views along the River--

Then we wandered around along the river.

(two photos)---Plaza de Espana---(two photos)

The walkway around the front of the building

We then arrived at the gardens and Plaza De Espana.
It is a lovely old building but it doesn´t seem to have much purpose.

Tanya and Rose in one of the tiled alcoves
Tanya in the alcoves of the regions she has visited - just click on the place-names to see the photos

---------


---------


There are little alcoves in the bottom that are tiled for each area/province of Spain so we took photos at each of them that we had been to or were going to.
Some were nice and some didn´t do much for me.

A postcard from Tanya - "looking forward to the flamenco dancing"
Rose went back for a siesta and I needed a bit of space - she is hard work - so I sat in the lounge and wrote in my diary and had a look at my budgeting etc.

A brochure giving the details on the "Arte Flamenco - English included
......and the program for July


Tanya and Rose at the Flamenco Dancing
Apparently Seville has the best flamenco in Spain so we booked to go and see that.
We had tapas for dinner and a few Sangria.
Rose is worse with a few drinks in her - I was actually quite embarrased at her yelling across the restaurant.

--The Dancing - "The flamenco was amazing!!"--

(four photos)
These shots are a bit blurry due to the lighting and movement of the dancer

(four photos)
Postcards in black-and-white---

------

......and now click here


to watch Tanya's VIDEO of the Dancing!!!
The flamenco was amazing!!
The dancer worked so hard, the singer looked like she was in pain and was singing with such feeling.
It is meant to be sorrowful and she looked heartbroken and the guitar player was excellent.
I am almost motivated to get a CD of flamenco guitar.
You could really feel the emotion and my heart was pounding while I was watching it!!
I absolutely loved it!!

After that it was back to the hostel for bed.
I tried to read for a bit but Rose was chatting away about trains and things I will be doing in over a months time!!
I just turned the light out and went to sleep so she would stop talking to me.

Real Alcazar Palace (two photos)---Tanya ready to look around

Inside the Palace--

(two photos)----

(two photos)----

The next day was the Real Alcazar Palace which I loved but Rose thought was 'crap' and told me about it numerous times.
She also said that her little legs couldn´t carry her any further so I told her that I was capable of sightseeing on my own and she didn´t have to stay.
But she did and just went on complaining!!
Real Alcazar Palace Gardens--
(two photos)---

(two photos)

---------

(two photos)---

(two photos)
My favourite part of the Palace was the gardens.
I loved that they looked very Spanish villa type but on a larger scale.
I hope the photos show it okay.
Tanya's look around the City--

The Tourist Information Building
Torre del Oro Tower - Naval Museum

The next Busabout bus had pulled in and there was three new people in our room who I new from earlier cities so as Rose was out I said - "Please can we go out now so we can get away!!"
That's mean I know - but really I needed to hang out with some younger people.

We went and met the rest of the newbies and then went to have a few drinks with the guide Belinda (my favourite guide yet)

Tanya and the Busabout group out to dinner
We then went to another place for dinner.
We sat down to eat at 11.30pm and the restuarants were full!!
I guess after their four hour siesta each day they can stay out a bit later.

We then went for more drinks at another bar and headed back to the hostel.

---Postcard views of the City - sent over by Tanya---

I had an 8.00am bus the next day to Lagos.

And after the heat of this place I was certainly looking forward to getting there!
---