Return to Tanya and Brett albumn
(Return to "Tanya's Working Holiday" index page)
(Return to "Photo Albumn" page)
(Return to "Dear Diary #15")
Brett's holiday with Tanya
......and scroll down for Tanya's terrific "day-by-day" diary
......and hundreds of photos!!!

September 2004
Before returning to Australia at the end of his season with the Portland Sea Dogs,
Brett is going to drop in and say 'hi' to Tanya

Tuesday 31st August

"I am so excited that Brett is going to be here next Tuesday!!
I absolutely cannot wait!!"


Monday 6th September


"Dad and Mum - this is probably going to get really 'old' for you two
and you will probably get another email tomorrow saying exactly the same thing
but I can't believe Brett is going to be here tomorrow...
I am so excited...
London, Paris and Rome...not a bad holiday hey?
Anyway...must go work because I am probably going to be totally useless tomorrow
Tanya"


Tuesday 7th September


"Needless to say I am pretty excited today
Really looking forward to having 'my visitor'
The landlords have given him his own room...he doesn't even have to share with me!
Ahh...must go work otherwise not much will get done today"

As well as catching up and seeing the sights "in-and-around" London, they will be touring!!!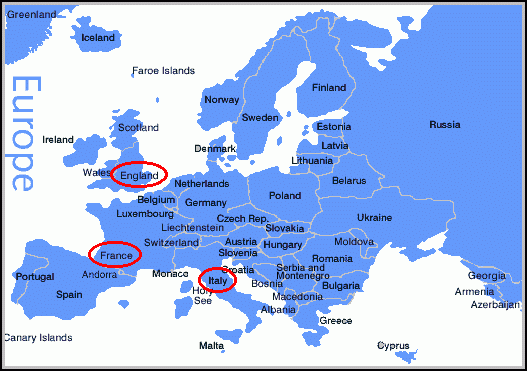 Tanya has worked out a trip for them to go from
"London to Rome to Paris to London" ...... and all the details are below

Saturday 11th September

Depart London Stansted Airport at 4.35pm
and arrive Rome Ciampino Airport at 8.05pm (via RyanAir)
Accommodation - Rome
Alessandro Hostel
CLICK HERE for the details and photos
Sunday 12th September
All day in Rome
Monday 13th September
All day in Rome

Tuesday 14th September
The day in Rome and then depart Rome Ciampino Airport at 7.00pm
and arrive Paris Beauvais Airport at 9.15pm
Accommodation - Paris
Aloha Hostel
CLICK HERE for the details and photos
Wednesday 15th September
All day in Paris
Thursday 16th September
All day in Paris
Friday 17th September
Depart Paris 11.00am
and arrive London at 11.25am (via BMI - British Midland Airways)


Tanya's main "Day-by-Day Diary" is below
This page is a few notes and photos sent during the trip
CLICK HERE!!!
......and the page includes notes from Tanya and Brett, photos, two postcards,
and two videos!!!



A "Day-by-Day Diary" written by Tanya, and it gives heaps of details of everything
she and Brett saw in London, Rome and Paris ...... a terrific story!!!
......and there are 286 photos to look at!!!

Days One to Three - Tuesday 7th to Thursday 9th September 2004 - LONDON
0 x photos
Brett's arrival at Heathrow Airport
Bike ride through London - but didn't like the traffic!!!
Dinner out with friends
Drinks with a few of the Capsticks' staff and other friends of Tanya
Dinners at The Porterhouse and a London pub

Day Four - Friday 10th September 2004 - LONDON
42 x photos
Saw a motorcycle accident
A ride on an open-topped bus
Sightseeing around London - Buckingham Palace, Westminster Abbey, Big Ben,
Houses of Parliament, famous streets, Tower Bridge, Tower of London, St Paul's Cathedral
A cruise on the River Thames
A ride on The London Eye
Dinner at Wagamamas

Day Five - Saturday 11th September 2004 - LONDON and ROME
0 x photos
Visited Tanya's old Hostel at Earls Court
Flight to Rome
Checked into their Hostel and met up with Tanya's friend Karen
An early night

Day Six - Sunday 12th September 2004 - ROME
71 x photos
A tour of The Coliseum
Visited Palatine Hill House/Palace
Saw The Constantine Arch, The Roman Forum, Circus Maximus and The Vittoriale Building
Lots of weddings around these landmarks
Met Kristina - "a nice girl from Kentucky"
Bruschetta and pasta and gelati for dinner
A "Roman working girl"

Day Seven - Monday 13th September 2004 - ROME
45 x photos
Vatican City, St Peter's Square and Basilica
Lots of priests and nuns!!!
A tour and visited the Vatican Museum, the Sistine Chapel, and the Basilica
More pizza for lunch
A statue carved by Michelangelo - with an interesting story

Day Eight - Tuesday 14th September 2004 - ROME and PARIS
36 x photos
Saw the Pantheon
The Trevi Fountain
Saw another wedding at the Fountain
Walked down The Via Condotti and saw the famous shops
The Spanish Steps
Italian leather!!! - "My darling brother brought me a lovely red bag
and I purchased myself a yellow purse"
Flight to Paris
Checked into their Hostel

Day Nine - Wednesday 15th September 2004 - PARIS
42 x photos - and 1 x video
The Arc De Triomphe
Wandered down The Champs Elysees and through The Place de la Concorde
Visited The Louvre - Venus de Milo and the Mona Lisa
Notre Dame Cathedral
Banana and nutella crepes
A walk through the Latin Quarter
Saw the Eiffel Tower at night
Snails for dinner

Day Ten - Thursday 16th September 2004 - PARIS
29 x photos - and 1 x video
Ready to climb the Eiffel Tower - but it was closed!!!
Ate baguettes under the Tower
Went to Sacre Coeur
Saw the Moulin Rouge at night and the Red Light District
Back to the Hostel and "that night was the worst night I have ever had in a hostel"

Day Eleven - Friday 17th September 2004 - PARIS and LONDON
1 x photo
Flight back to London which left from Charles De Gaulle Airport
Dinner at Mr Wong's Chinese Restaurant
Did a bit of "people watching"
Saw the show "STOMP"

Day Twelve - Saturday 18th September 2004 - LONDON
13 x photos
Went to a Premier League Football (soccer) match
"A massive dinner of bangers and mash and gravy" cooked up by Tanya
Had a quiet night at home

Day Thirteen - Sunday 19th September 2004 - LONDON
7 x photos
"Today he was leaving"
Brett met Tanya's room-mate Tamara
The Olympic Silver Medal
No tears at the airport

"I had a fabulous time with him visiting
and despite the walking and bus rides and hostels
I think he did too!"

NOTE #1
The above albumns include 92 photos of Tanya and Brett
CLICK HERE to see all these photos on one page
NOTE #2
Tanya had visited Paris before - during February 2004
CLICK HERE to go to that albumn which has over 120 photos!!!
---