(Return to "Tanya's Working Holiday" index page)
(Return to "Photo Albumn" page)
(Return to "Brett's holiday with Tanya" albumn)
(Return to "Dear Diary #06")---(Return to "Dear Diary #07")
(Return to "Dear Diary #08")
A weekend in Paris!!!
Index Page One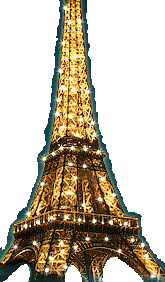 (and click the above for a great shot of the Eiffel Tower)
Friday 13th to Sunday 15th February 2004
"I also organised Friday 13th February off work for Paris
Karen is booking this very second so fingers crossed they haven't booked out
Paris is booked and confirmed!
This is what you have brought me for Christmas! (£139.00)
Thanx
Excitement!"
"Monday 2nd February 2004
Amanda is now coming to Paris too
Me, her and Karen will be in a triple room together
Amanda is the girl from my old work who I went to Bath with"

-----Includes Valentine's Day-----

Click here - ITINERARY - to read a little about what she will be seeing and doing
Click here - "MY TRIP TO PARIS" - a fantastic story of her three days!!!
NOTE - there are over 50 thumbnail images and pictures on this page
and it may take a few extra seconds to download completely
(simply click on the thumbnail image to see the details and photos)
Under the English Channel!!!

Two descriptions of the Channel Tunnel, plus a diagram of the tunnel system
The Eurostar Train

Details on the train, plus a map of the track between London and Paris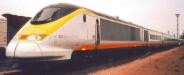 The train (two photos)
On the train and on her way!!!

Tanya and Karen's ticket---
Amanda Tanya (two photos)---

Karen
In France!!! (two photos) - and a game played by the girls!!!
Gare Du Nord Station, Paris

"We pulled into Gare du Nord on time and it is such a beautiful train station
They filmed a lot of Amelie there so I took heaps of photos"
(two photos)---

(two photos)---

"McClean" (two photos)
Hotel "Jardin De Paris" Boulogne
210 Bis, Boulevard Jean Jaures
92100 Boulogne Billancourt - France
"We got to the hotel
Which wasn't a whole lot better than the hostel but it did us
…all we had to do was sleep there"
(no photos of the Hotel)
When in France......!!!

"We saw a restaurant that sold snails so we went in - we all wanted to give them a go!
They were pretty nice actually
I had expected them to be like oysters which I hate but they weren't
You will see the photos the nice Irish couple at the next table took for us.
We were such tourists but it was fun!"

12 x snails!!!---

Amanda Karen Tanya - getting ready!!!

Tanya - seems to be enjoying them (two photos)---

Amanda - not real sure???
Napoleon's Tomb

The building-
and the cobbled streets---

Karen Tanya Amanda
Opera House

"And then caught the metro back up to the Opera House
The Opera House is stunning but at night it was just beautiful
My photos really don't do it justice but you might get the idea"

Sacre Coeur

"We went in and it was quite amazing
Very big and very beautiful"

The Church and carousel (two photos)--

(postcard)

Tanya------

Tanya Karen Amanda - sitting on the steps

View from the front steps (two photos)---
Looking down the steps (two photos)

The carousel---

"Guys with Guitars" - and a funny story!!!
Notre Dame

"(1) The Notre-Dame at night (apart from the Eiffel Tower)
is by far my favourite sight I have seen so far
(2) Then we went to the Notre-Dame
It was so big and not quite as nice during the day but lovely anyway"

(two photos)---

(two photos)---

(postcard)

"Big candleabra as tall as the ceiling in the house!!!"---

La Rosace Nord (postcard)

Tanya at Notre Dame
Sainte Chapelle

"We then walked across the river to the Sainte Chapelle
which has the most beautiful stained glass windows
and I was able to get some really good photos of that too
It was one of the nicest I have been in on the inside"

(three photos)---

Upper-level stained glass windows (two photos)
Stained glass windows (three photos)---

and another one
Montmartre

"...and wander around Montmartre until dark so that we could see the red light district"

"Sexodrome"---

Tanya doing some shopping!!!
Moulin Rouge

"We then went to the Moulin Rouge and took heaps of photos
It was really really lovely"

(two photos)
Scenes around Paris

Near the Louvre---

Near Notre Dame

A Metro Station---

A double-decker tube train (two photos)

A plan of the Paris Metro, and it shows most of the places Tanya visited (270Kb)
A night cruise on the River Seine - "Bateaux Mouches"
"We drove down to the boat and jumped on
We sat at the back so that we could get a view from both sides
and opened the cheese and crackers and wine and had a few drinks and watched the Paris go by
It was stunning!
Going under the old bridges and past the buildings was lovely
Everything was beautiful and I am so glad that we did the cruise at night"
NOTE - these photos are a "little blurry and out of focus"
but remember that Tanya was bouncing around in a boat as she took them!!!
They have been included because good or bad, every photo has a "special memory" for her

Karen Tanya Amanda - ready to see Paris by night--
Musee d'Orsay

A bridge over the Seine--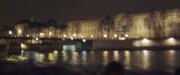 Houses along the river
Eiffel Tower

from a distance

"normal" lights, and

"sparkling" lights


......and now
CLICK HERE
to go to
Index Page Two
and this page includes
Musee d'Orsay
The Louvre
L'arc De Triomphe
Avenue Des Champs Elysees
Place De La Concorde
Eiffel Tower

---