(Return to "Tanya's Working Holiday" index page)
(Return to "Photo Albumn" page)
(Return to "Dear Diary #16")---(Return to "Dear Diary #17")---(Return to "Dear Diary #18")
Christmas 2004


......and there is a tune to listen to as you read this page
Windows Media Player required
If the Carol does not play, you most probably have an older version installed
Version #9 is necessary, and it can be downloaded for free by clicking here
* make sure your speakers are on
......and scroll down the page for photos and videos
A note from Tanya on Tuesday 12th October 2004

"Looking at Christmas stuff - found a three-day tour of Scotland
It includes a nice big Christmas Dinner up in the Highlands with a chance of snow
Might be cheaper than skiing which I am not interested in anyway
I just want something different
- I did London last year so would (if I can) like to be out of London this year"
......and another one on Thursday 21st October 2004
"Definately decided on Scotland for Christmas"
"Going to book next week when I transfer some money out of my savings to pay for it
Going to go by myself which I was worried about at first
but I will be in the Scottish Highlands near Loch Ness and I haven't been there yet
I think that the area and atmosphere will be quite relaxing
and I can chill out on my own
I am going to have two extra days in Einburgh after the tour
Talk soon!"
......and another one on Tuesday 21st December 2004
"I started getting all my stuff for Scotland ready
I am so excited that it is going to snow
I am taking my new backpack and it is going to be full - of winter stuff
- jumpers and thermals and scarves and gloves and beanies and long socks
It is currently one-degree in Edinburgh and three-degress in Inverness
Woo hoo!"


So she will be spending Christmas in Scotland!!!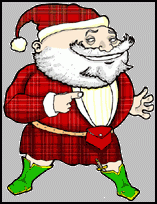 Her flight details
Flight Segment - Heathrow (London) Terminal 1 To Edinburgh
Flight - BA1464
Departure - Thursday 23rd December 2004 at 8.35pm
Arrival - Thursday 23rd December 2004 at 9.55pm
Flight Operated By - British Airways
Flight Segment - Edinburgh To Heathrow (London) Terminal 1
Flight - BA1453
Departure - Tuesday 28th December 2004 at 4.10pm
Arrival - Tuesday 28th December 2004 at 5.30pm
Flight Operated By - British Airways
"3 Day Christmas Cracker" tour conducted by


(click on the logo to go to "MacBackpackers" official web site)
Departs - Friday 24th December from the Hostel
Christmas and the Loch Ness monster are inextricably linked in the hearts and minds of many people, to the point that the two have become interchangeable - this spectacular tour is a chance to spend Christmas in Inverness, Capital of the Highlands and home to Scotland's beloved Yuletide beastie
------3 Day fully guided tour
------2 nights Accommodation in Inverness (breakfast included)
------Christmas in Inverness
------Awesome scenery,
------------------including Rannoch Moor, Glen Coe, the Great Glen, beautiful Perthshire and more
------Full Christmas dinner

Full Itinerary
Day One
The historic town of Stirling beckons as we leave Edinburgh.
It is here that we will learn of William Wallace and Robert the Bruce and their struggles for an independent Scotland.
The Highlands unfold before us as we witness breathtaking panoramas of Rannoch Moor and Glen Coe.
Our journey then takes us to Loch Ness where you have a chance to explore the mystery of Nessie first hand.
Next stop, Inverness, for some Christmas Eve partying.
Day Two
Waken up to Christmas in the Highlands and enjoy a relaxing day of fireside chats and a walk around this beautiful city.
A hearty Christmas dinner and night of festivities await us to ensure a cool Yule for all.
Day Three
Our final day begins on the haunting battlefield of Culloden where the Highlanders made their last stand.
The Scottish skiing capital of Aviemore is our next stop before continuing on to the immaculately preserved ruins of Ruthven barracks.
Journeying through the Grampian mountains and the forests of Perthshire, we cross the River Forth and into Edinburgh, Scotland's medieval capital for a well earned rest.
Accommodation ---- Castle Rock Hostel
Just a stone's throw from the famous Edinburgh Castle, this friendly, fun hostel has a fantastic location with great views over the city.
As well as easy access to the many historical and cultural attractions, you also have the renowned city nightlife on your doorstep.
Facilities are good and include an 8 foot video screen, games room, free tea and coffee and internet access.
Dorms are large with high ceilings and generous room for each guest.
Castle Rock Hostel is our newest Edinburgh hostel, a marvellous example of old Edinburgh architecture lying in the shadow of the Castle.
click on this logo to read all the hostel facilities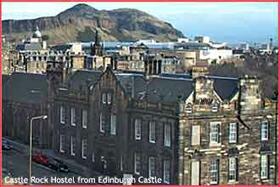 click on the photo to see nine shots of the Castle Rock Hostel

Christmas wishes from Cairns
CLICK HERE
to see the card from Dad and Mum

CLICK HERE
to see the presents
Geoff, Sharon and Brett - Christmas in Cairns
CLICK HERE

to go to the "Christmas 2004" albumn

A note to her Friends
It's that time of the year again

Hi all
Yes, I know this is very impersonal
but know that I did actually select your name from my inbox personally
and didn't just "send all"!
I want to wish you all a very Merry Christmas and wonderful and safe New Year
I have already received numerous emails that have mentioned
sunshine,
swimming,
fresh seafood,
and the list goes on
so now its my turn to reply...
Snow,
Log fires,
Mulled wine,
Roast turkey,
Yorkshire Pudding,
... did I already mention snow?
I head to the Scottish Highlands Thursday night and I am really looking forward to it
- for something different - don't think I could do it forever
Anyway, once again enjoy your time with your family
and for those of you with new families
- babies, husbands, wives -
I hope it is especially memorable and I will see you all some time next year
Lots of love
T
......and click here to see the cards Tanya received

Christmas present from her Boss
My boss gave me a Chanel make-up palette which has eight colours
and they can all be used on eyes, cheeks and lips!
It is a travel pack - how nice
Am a bit stoked that it is Chanel too!!

Tanya's Day-by-Day Diary - and Photos!!! - and Videos!!!
.
.....and her Diary gives heaps of details of everything she saw and did
during her "White Christmas" and fabulous time in Scotland
......a very enjoyable read!!!
......and there are 186 photos included in the Diary!!!

Day One - Thursday 23rd December - London to Edinburgh
(2 x photos)
Presents from home arrived just in time!!!
Off to the airport and "everyone was in a good mood"
The flight to Edinburgh Scotland which "was pretty rough"
Trip to the hostel
Met a couple of the girls who were on the same tour

Day Two - Friday 24th December - Edinburgh to Inverness
Christmas Eve
(20 x photos)
Breakfast and ready for an early start
Met Ruthie, the tour guide and she was "one in a million"
On the bus and headed off
The country-side around Perthshire
Visited Dunkeld Cathedral
Found a little bit of snow
Saw the River Tay and "it looked absolutely freezing"
Driving through the Grampian Mountains
Lunch in Aviemore
Bought her Secret Santa gift
Visited the Culloden battlefield
Arrived in Inverness which "was a cool little town"
Checked into the hostel
Out for Christmas Eve drinks
"There was still no snow - it wasn't looking good!!"

Day Three - Saturday 25th December - Inverness
Christmas Day
(51 x photos)
Woke up and "it was snowing and I nearly cried I was so happy!!"
"Everything was white - I couldn't believe it!!"
Phone call from Dad and Mum
Playing in the snow!! - "threw snow balls and made snow angels"
Breakfast and then a look at Edinburgh Castle
On the bus for the trip to Loch Ness
"Swimming nude!!"
"Cold is not the right word to use to describe the water!!"
"Drinking whisky straight out of the bottle!!"
Back to the hostel
A three-course-dinner at a local pub
A Christmas card for Ruthie from the group
"Paul got up and did his Christmas poem"
Had a lot of fun during the Secret Santa time
A present from Macbackpackers
Back to the hostel for "a hot chocolate with marshmallows by the fire"

Day Four - Sunday 26th December - Inverness to Edinburgh
Boxing Day
(58 x photos)
Breakfast then on the bus again
Drove past Loch Ness
Saw a Hairy Coo
A visit to Castle Urqhart
Back on the bus and "it was like travelling through another world"
A look at Glen Coe
Went for a "titty dive!!"
Driving through Rannoch Moor and "the scenery was breathtaking"
Met Hamish, another Hairy Coo
Stirling Castle and the Wallace Monument
Back to Edinburgh and to the hostel
"The Christmas Cracker Tour was over"
Eating a Cherry Ripe!!

Day Five - Monday 27th December - Edinburgh
(23 x photos)
Exploring Edinburgh Castle
Saw a very old dog cemetary
A walk down Princes Street and looked through the Christmas Markets
"I brought the coolest hat in the history of hats!!"
Out to dinner and then hung around the hostel

Day Six - Tuesday 28th December - Edinburgh to London
(32 x photos)
A walk down the Royal Mile
Visited shops and ate shortbread
A visit to the Palace of Holyroodhouse
Looked at the ruins of the Abbey
Bought a souvenir - "My Highland Santa!"
"And I finally found my Nessie too in one of the shops along the Mile!!"
Then to the airport and back to London
Videos

Click on the picture

(which is a picture of Tanya's camera!!!)

to see eight videos of the scenery Tanya saw during her White Christmas in Scotland

AND

a video of Tanya making a Snow Angel on Christmas Day

"Christmas was an absolute fairy tale
- it was magical!!!
I am so pleased it happened for me"

---