(Return to "Tanya's Working Holiday" index page)
(Return to "Photo Albumn" page)
(Return to "Happy Birthday - November 2004" page)
(Return to "Dear Diary #07")---(Return to "Dear Diary #14")---(Return to "Dear Diary #16")
(Return to "Dear Diary #17")
A nine-day trek around Egypt
Departs London on Saturday 6th November
and returns on Sunday 14th November 2004
Emails from Tanya
Thursday 22nd January 2004

"One week in Egypt during November
Cruising down the Nile on a Felucca sailboat on the 9th"
...and then on Friday 6th February 2004
"I am thinking of going to Egypt later this year
I talked to the travel people about this trip
and they said that I need to book 3-4 months ahead
as that is one of the most popular tours
The one I am considering at looks great
And I would be cruising on the Nile River on my birthday
...who'd have thought!
At this stage I am thinking of going on my own
and there is a maximum group of eighteen so it should be really nice"
...and on Friday 2nd July 2004
"Going on lunch in about three minutes
Not sure how long I will be
- 'cause I gotta book my flights to CAIRO EGYPT!!!!!!"


Departure Date - Saturday 6th November 2004
and returns to London on Sunday 14th November 2004
Click here for Tanya's flight details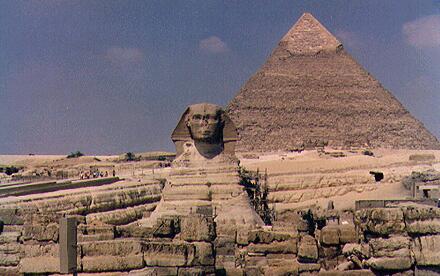 Click here
for the itinerary of this trip,
which includes heaps of details on the famous attractions
Tanya will see and visit - and a small map of the area
A note from Tanya on Monday 1st November 2004

My weekend was really good
I shopped till I dropped on Saturday getting stuff to take away with me to Egypt
Anyway I got my camera tripod and carry case and travel hairdryer (this thing is awesome)
and 'poo' tablets and insect spray and mini body wash and mini deoderant
and bandaids and travel pillow and I also got new makeup and a lippy
and that got me a free gift (love Clinique) and other stuff too
but I can't remember and it is probably just boring anyway
I started writing my list and putting stuff out that I am going to take
I am going to borrow Tamara's backpack to take
because it is just a bit bigger than my little wheely bag
......and on Thursday 4th November 2004
Egypt soon! - two more sleeps! - and I am starting to get really excited!
......and on Friday 5th November 2004
ONE MORE SLEEP!
I can't believe it is finally here

Tanya's Day-by-Day Diary
and it gives heaps of details of everything she saw and did during her nine day trip
......a terrific story!!!
......and there are hundreds photos to look at!!!......in fact, 308!!!
HINT - before reading Tanya's diarys and looking at the photos, I would like to suggest
that you have a read through the trip itinerary - and the link is above
This includes heaps of information, along with many interesting facts and figures on the places
Tanya went to and photographed, along with a map of the areas she visited

Day One - Saturday 6th November - LONDON and CAIRO
(5 x photos)
Finishing the packing
The flight from London to Cairo
Baggage and Immigration
The "crazy ride" from the airport to the hotel
Her first look at the Nile
Her hotel room - and sleep!!!

Day Two - Sunday 7th November - CAIRO
(2 x photos)
A daytime look at the hotel
Wandering around looking at some shops
Tried hibiscus tea - and liked it!!!
The first tour meeting
A walk along the Nile in the evening
And also tried a sheesha pipe
An early night to be ready for the start of the tour

Day Three - Monday 8th November - CAIRO
(46 x photos)
Breakfast at the hotel
The tour meeting - covering up, tipping, and to be alert for "shopping scams"
The trip from Cairo to Giza - fertile land to the desert
The buildings and donkeys in the streets
The Pyramids!!! - "I can't begin to describe what it was like"
A terrific guide to show her around
Lots of camel transport being used by the locals and tourist police
Inside one of the pyramids
Very, very hot!!!
A visit to the Sphinx
A papyrus shop - and came out with three!!!
Lunch at a falafel takeaway
The drive back to Cairo - "mad traffic and a minor accident"
Strange sights involving cauliflowers and bread!!!
Dinner at a kofta takeaway
Sleeping on the train to Aswan

Day Four - Tuesday 9th November - MY 29th BIRTHDAY!!! - ASWAN
(46 x photos)
The train trip to Aswan
A rude awakening!!! - for one of her friends
"The toilets were by far the most disgusting that I have ever had to use"
"It was my birthday!"
The contrasting countryside from the train
Arrival at the Happi Hotel
A quick visit to the bazaar
Checking out the felucca for her overnight trip
A landscape of "amazing colours"
Falafels for lunch
Cruising around, and then a swim in the Nile
A visit to a Nubian village
Bought a bracelet and had a henna tattoo
A great dinner - served in an interesting way
The night on the felucca
--- but not before "Happy Birthday" was sung!!!

Day Five - Wednesday 10th November - ASWAN
(40 x photos)
Up at 2.45am for the ride back to Aswan
Joined an armed police convoy to Abu Simbel!!!
--- but most of the group went back tp sleep - but woke up when a tyre went 'bang'!!!
Abu Simbel - and it's "another-words-can't-explain-place"
And it is very Hot!!!
The bus back to Aswan
The Purple Floor Restaurant for lunch
Shopping in the bazaar
The Aswan Moon Restaurant for dinner
Smoking sheesha pipes and drinking hibiscus tea!!!
The sound and light show at the Philae Temple
Back to the hotel and "crashed"

Day Six - Thursday 11th November - LUXOR
(50 x photos)
Up at 4.15am!!!
Vegemite for breakfast
The train to Luxor
Donkeys and camels
The hotel in Luxor which "was really good"
Did some "gold shopping" - for herself and Christmas presents
"Groped" by a policeman!!!
Horse and cart ride to Karnak Temple
A look at the Temple and "our guide was great"
"The hieroglyphics were amazing"
Dinner at the Movenpick Resort
Shouted "A Maxi" for her birthday and "I made a pretty big dent in it"
Back to the hotel as there was another early start the next day

Day Seven - Friday 12th November - LUXOR
(86 x photos)
Another 4.30am start!!!
Breakfast then headed off to meet her donkey!!!
A seven kilometre donkey ride and "we just laughed the whole way through!!"
The Valley of the Kings
Saw Karen and "I was glad we were able to meet up"
Visited some of the tombs
Photos were banned "but as usual I managed a few"
"Once again I will say that the hieroglyphics were amazing"
So hot again!!!
The Tomb of Ramses VI
The Tomb of King Tut and "it was really quite amazing to be there"
A trek over to the Workers Village and visited two tombs
Had a great view of Hapsetshut's Temple
Saw the Valley of the Queens
Donkey ride back to Luxor
Saw the Colossi of Memnon
Noticed the living conditions of the locals
Back to the hotel for a swim and to watch the sunset
On the train for Cairo at 11.00pm

Day Eight - Saturday 13th November - CAIRO
(33 x photos)
A "fantastic visit" to the Cairo Museum
The artefacts from King Tut's Tomb
The Mummies Room which included Ramses II
A camel ride and "they are so big and ugly and scary!!"
A break-down on the way back to the hotel

Day Nine - Sunday 14th November - CAIRO and back to LONDON
(0 x photos)
Once more a 4.30am start!!!
Off to the airport
Flew over the European Alps "and it was a lovely sight"
Snow everywhere - "different to Egypt!!"
Back home in London and "the weather was cold and overcast"



"It was really the trip of a lifetime
and one of my most memorable birthdays
Never in a million years did I think that I would go to Egypt
and ride camels and donkeys, swim in the Nile,
climb inside one of the Great Pyramids at Giza
or go to the Valley of the Kings
and stand inside the tomb of King Tutankhamen
and be face-to-face with him (his mummy)
…but I did!"

Click on this logo to go to a very comprehensive
(and terrific!!!)
Egyptian Web Site