(Return to "Tanya's Working Holiday" index page)
(Return to "Photo Albumn" page)
(Return to "Dear Diary #07")---(Return to "Dear Diary #09")
(Return to "Dear Diary #10")---(Return to "Dear Diary #20")
A trip to Holland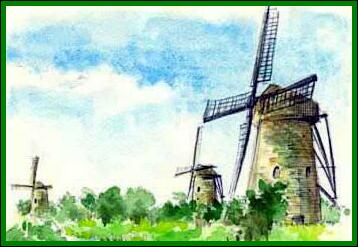 Wednesday 7th to Sunday 11th April 2004
Amsterdam is booked!!

"I fly there at about 9.30pm on Wednesday 7th April
I stay in Amsterdam that night
I go to Rotterdam on Thursday 8th - that is where the windmills are
Back to Amsterdam on Friday 9th via The Hague
Stay there Friday 9th and Saturday 10th
and come back on Sunday 11th
Monday 12th is then a day off for Easter Monday
YAY!
The flight costs £59.98 and the accom is 78.80 euro (which is about £55.00)
Tanya"
Email to her friend, Nikki Moncrieff

"I booked to go to Amsterdam during April
Flying out Wednesday 7th and coming back Sunday 11th
I am going to have three nights in Amsterdam and one night in Rotterdam
and go to The Hague as well
Let me know if there is anywhere I really have to go
Tanya"
......and Nikki's reply
"Great! - you will have so much fun
You have to go to Anne Frank's house - very interesting
And also to the sex museum - it is funny and different so worth a look,
plus it only costs 2.50 euro which is very cheap
Also go to the Van Gogh museum
- unfortunately I did not get a chance, but apparently it's excellent!
Make sure you walk through the 'red light district' at night
A full on eye opener - women in the window in underwear blowing kisses
Very out there!
And of course venture to any cafe - you order 'pot' off a menu!
We asked for something that would make us giggle and it did the job!
Also make sure you hire a bike and ride out of town a bit
You can see windmills and stuff which is lovely!
I will let you know if I think of anything else
Speak soon"
......and an email from Tanya during her trip

"Just a quick one to say "hi" from Holland!
Having a good time - love this place - wanna live here but can't speak the language!
Everything is so beautiful
Did a boat cruise and did the Anne Frank House today
Off to shower and get ready to do the red light district tonight
Love you - Tanya"
Where is she???



Maps of Europe and Holland
Accommodation
Click on the names below for all the details and photos of the hostels she stayed at,
along with brief details on the city, and "what to do" and "where to go"
Amsterdam/Stadsdoelen----------Rotterdam
Tanya's Diary

"I had a fantastic time"

Simply click on the days below to read all about what she saw and did
NOTE
- these pages also contain the thumbnail links
to the 196 photos she took
Day One - Wednesday ---(6 photos)
Trip and flights to Holland
Hostel in Amsterdam

Day Two - Thursday ---(41 photos - 5 of Tanya)
Train journey to Rotterdam
The hostel
Windmills at Kinderdijk
Looking around Rotterdam - Euromast - Heg Park

Day Three - Friday ---(65 photos - 5 of Tanya)
Return to Amsterdam
Anne Frank's House
Gardens at Begijnhof
Walking around just looking - Central Station - Dam Square - Royal Palace
On a canal cruise
A visit to a Sex Museum

Day Four - Saturday ---(67 photos - 10 of Tanya)
Train trip to Leiden
Bus to Lisse - Keukenhof Flower Gardens
Watching a "clog maker"
Looking around at diamonds
Canal cruise at night
A visit to one of the "coffee shops"

Day Five - Sunday ---(17 photos - 4 of Tanya)
A bike ride around Amsterdam
Van Gogh Museum
Heineken Brewery
Return to London
"Love this place
I wanna live here!!
Everything is so beautiful"
---