(Return to "Tanya's Working Holiday" index page)
(Return to "Photo Albumn" page)
(Return to "Dear Diary #17")
"Bits'n'Pieces"
NOTE
- there are 61 thumbnail images on this page
and it may take a few extra seconds to download completely
(simply click on the thumbnail image to see the photo, card, etc)

Card to a friend for helping set up her UK banking-----

Bought a 'Back Buddy'

Souvenir shirts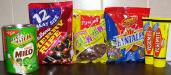 "Treaties" that Tanya wanted sent over......
......and presents she sent back to Cairns!!!




Card for Karen's birthday-

Tanya's new friend???

Tanya's car in Cairns

A letter from Aunty Jessie---

Nick and Sarah's visit to Cairns

"Cyclone Ingrid" approaching Cairns!!!--

David Barron's feet!!!

Funeral of Pope John Paul II---------

Wedding of Charles and Camilla

"A Holiday from Hell" for some of her friends---
"I spotted Claudia Schiffer!!"

Rugby League State of Origin 2005---

Hottest May day for fifty years!!!

Caramel Macchiato Espresso - "my fave coffee"

"Bomb blasts rock London!!!"
"Oh, what a beautiful baby......"
Tanya's friends and their babys
"Jaylon David Daniel Beecroft"




(nine photos)
"Tia Kelly Franklin"








(nine photos)
"Aidan Richardson"









(nine photos)
"Ella
McFadden
"




(nine photos)
"Thomas Barber"











(thirteen photos)
"Flynn Matthew Hitchins"




(six photos)
"Cody"



(one photo)
---