(Return to "Out and About" albumn)
(Return to "Dear Diary #02")
Saturday 1st November 2003
Harrods
"Then I caught the Tube to Harrods.
That place was packed!
It was a full of tourists and full of people I think that were trying pretty hard.
There was a line up for the restuarant in the place!
Just go to a McDonalds!
I did however quite enjoy the Chocolate Shop there - it was huge!
But I didn't buy anything because I didn't think I would be able to stop!"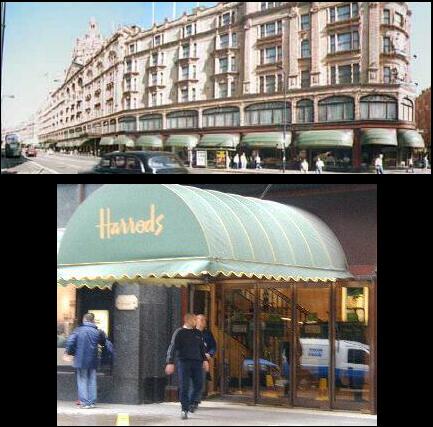 ......and there are another four photos below
87 - 135 Brompton Road,
Knightsbridge.
London, SW1X 7X

Harrods department store is one of London's premier shopping experiences.

Probably the best and certainly the most well known department store in the world, Harrods occupies a whole city block.

The stores motto is "omnia omnibus ubique" (everything for everyone everywhere)

Harrods is one of the world's most famous department stores, and was established in 1849 as a humble grocery store employing two assistants.
Referred to as the "ultimate department store", it sells everything, and if they don't have it, they will get it for you.
It offers everything from food to fashion, furniture to sportswear plus 20 in-store restaurants serving every kind of cuisine imaginable from pizza to sushi.
Services range from piano tuning to fitting saddles.
They even have their own bank and a mortuary!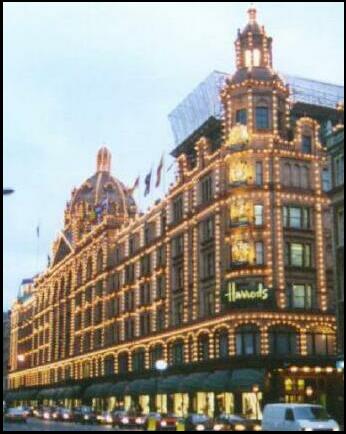 The Food Halls are amazing in themselves, from fresh flowers, vegetables, and an elaborate bakery, to an enormous dairy, meat and fowl section.

Harrods has many departments, featuring museum-like rooms.
Must-see sights include the Food Halls, the Egyptian Hall and the Pet Department.
Traditional British merchandise is available in abundance.

At night the store is illuminated by 11,500 light bulbs.

A trip to London wouldn't be complete without a visit to world-famous Harrods, ranked as the third most popular destination in the city.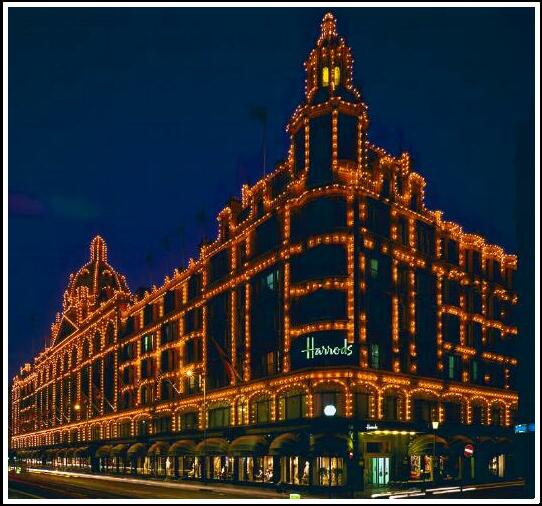 ---