(Return to "Out and About" albumn)
(Return to "Dear Diary #02")---(Return to "Dear Diary #03")
Saturday 1st November 2003
Portobello Road Markets - Notting Hill
An email from Tanya

"Then I caught the Tube to Notting Hill and went to the Makets on Portobello Road
Heaps and heaps to see and lots and lots of walking
I didn't need any of it though - lots of antique stuff and some lovely coats
I did buy a backpack and a new handbag
because that brown thing was giving me a sore back from carrying it across my body
I bought the backpack for the weekends and the handbag for work
It does not have a shoulder strap so I have to carry it in my hand
so hopefully I won't get a sore back from now on
I also brought some thermal underwear that was really cheap and a t-shirt
Nothing flash and no photos because it was just markets and nothing too exciting"
Tanya and her Friends #03 Albumn
After looking at this page, click on the above link and scroll down to see photos of
Tanya, Tamara and Michelle when they visited Notting Hill and the Markets on
Sunday 22nd May 2005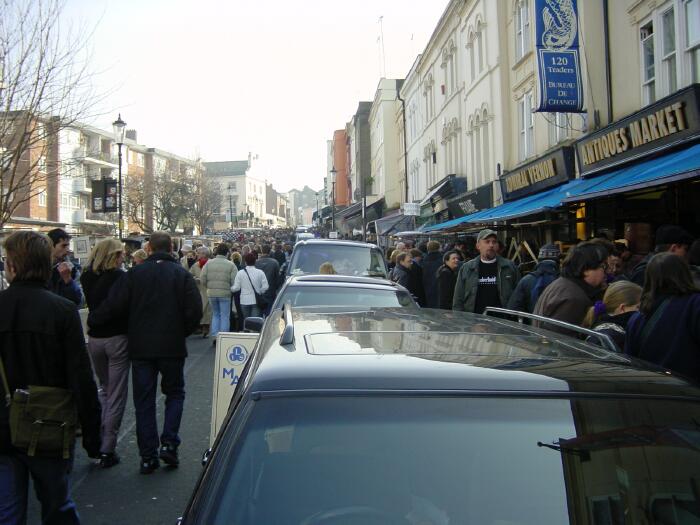 ......and there are another six photos below
Portobello Road Market is always bustling and and well worth visit even if you do not intend to buy.

Portobello Road is a narrow, winding thoroughfare, in the middle of Notting Hill.

A market has been held here since 1837, and today is really three or four markets rolled into one.

At the Notting Hill end there are over 2,000 stalls selling antiques, jewellery, paintings, coins, medals, silverware and collectables.
It is the world's largest antiques market.
Visitors come from all over the world because they know that in Portobello Road they will find the most extensive selection of antiques in Britain.
All the stallholders here are experts so don't expect too many bargains.
This area also has cafés, bars, restaurants and delicatessens.

Further down the hill are fruit and vegetable stalls.

The section around Westbourne Park Road and Talbot Road was made famous in the film 'Notting Hill' , which starred Hugh Grant and Julia Roberts.

Under the Westway is a large flea market offering second-hand clothes, jewellery, records and books, and beyond this at Golborne Road the market becomes rundown but it's still worth searching for bargains, as well as the Portuguese cafés.

Saturday is the main day for the market when dealers trade all manner of antiques and collectibles from about 5:30am till about 4:30pm.
Thousands of people come down the market each Saturday to purchase antiques from glassware to pewter, to eat and drink in the numerous restaurants, coffee shops and pubs or simply to browse and watch the world go by.

The shops and stalls of Portobello Road offer an extraordinary variety of goods ranging in price from a few pounds to several thousands.

This market is a huge tourist attraction, being London's largest and it stretches over a mile long.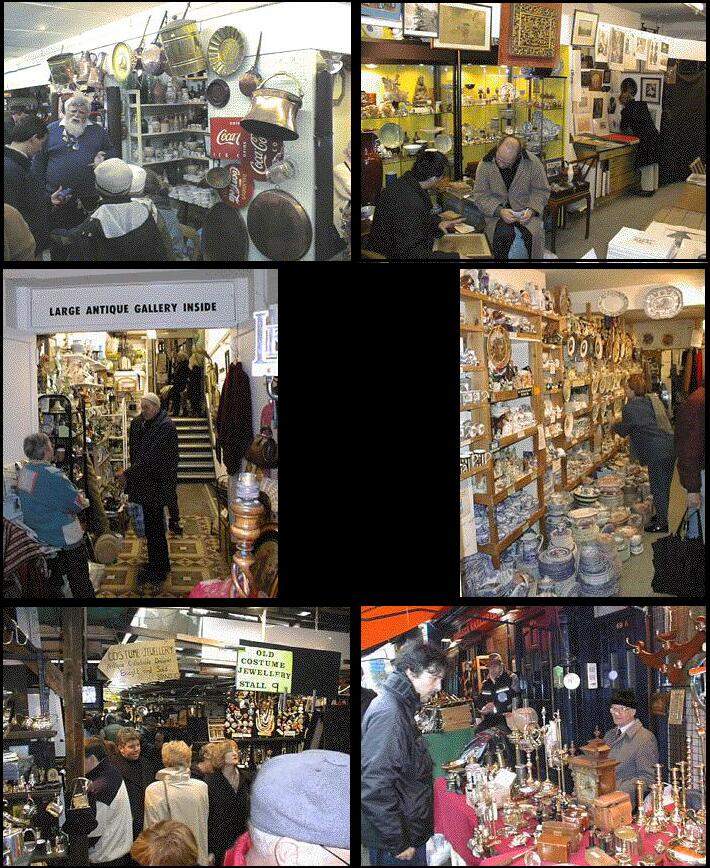 ---