(Return to "Tanya's Working Holiday" index page)
(Return to "Photo Albumn" page)
(Return to "Sports of all Sorts" albumn)
(Return to "Dear Diary #02")
Tanya is going to a Rugby League Test Match!!!
Australia v Great Britain
2003 Ashes Series - Game One


Venue - JJB Stadium, Wigan
Saturday 8th November at 6.15pm

Her bus trip - from London to Manchester and return - departing on the 8th and returning on Sunday 9th November 2003
Accommodation - at The Palace Hotel, Manchester ..........a birthday treat for herself!!!
The venue - JJB Stadium - three photos
......and here are all the details......
An email from Tanya - the game, hanging around with "Legends"!!! ..........and in her words "I seriously had a really good time! - I can't believe after going up there by myself what I ended up doing"!!!
Match reports - before and after the game ......Australia won!!!
A few details on The Australian Rugby League Legends Team ......and some of the "famous names" Tanya had a beer with!!!
......and some photos
(simply click on the thumbnail images to see the photos)

The view Tanya had - looks like a great seat!!!

The Australian Team on the field warming up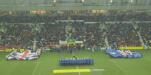 The National Anthems being played (two photos)
Tanya with Trevor Gillmeister and Jason Hetherington
---