(Return to "Tanya's Working Holiday" index page)
(Return to "Photo Albumn" page)
(Return to "Dear Diary #18")---(Return to "Dear Diary #19")---(Return to "Dear Diary #20")
(Return to "Dear Diary #21")---(Return to "Dear Diary #22")---(Return to "Dear Diary #23")
Ingram Winter Green Solicitors
Her new job - starting on Monday 24th January 2005
......and finished on Friday 1st July 2005
An email from Tanya on Thursday 6th January 2005

"I have a job!
With a firm called "Ingram Winter Green" - doing commercial litigation
The work is described as a "busy ongoing commercial litigation role for as long as I want"
I won't be working for them tho
It will be like when I first started with "Blake Turner and Co"
and I will be employed through an agency who will pay me weekly
- about £150.00 more than I am getting here!!
I will travel on the Tube via the Piccadilly line to Holborn - no changes
and a slight walk but it won't be more than about five or ten minutes
Capsticks don't give references - they just say how long you worked for them
and your attendance record, but I might see if Serena will do one for me.
I am so excited - and feel so much better about leaving here now
Tanya"

Click on the logo for details of the Agency Tanya will be
working through - and an email confirming her new position
There are a few details on Tanya's new employer below
......and also click here to go to the Firm's official web site
Ingram Winter Green Solicitors
Bedford House
21A John St
London WC1N 2BL
Telephone - 020 7845 7400
Facsimile - 020 7845 7401
Email - back-chat@iwg.co.uk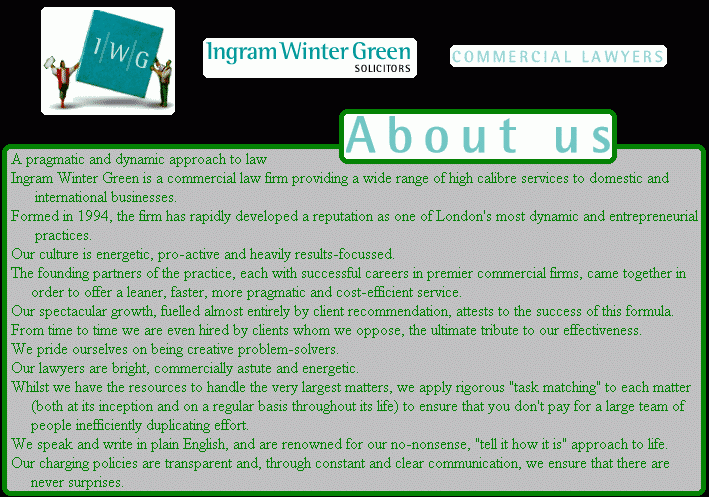 Click on the map for the details on Tanya's ride to work

......and here's a note from Tanya on Monday 17th January 2005

"A quiet night and then up early Sunday for my "test ride to work"
A twenty-two kilometre round trip!
I got there in about fourty-three minutes which I was very pleased with
Peak hour traffic will make a bit of a difference but not too much - there are bike lanes on the road
Do need to get a gas mask - was a bit yukky wtih the traffic!!"
......and another note from Tanya on Thursday 27th January 2005
"I cycled and because you got this email obviously survived!
I pulled my bedroom door shut at 8.10am and rode into the street where I work at 9.00am.
Anyway - feeling pretty good this morning!!"

A note from Tanya on Thursday 3rd February 2005
"About the new job - everyone is nice at work and the work is interesting
- lots of different stuff
And I have lots of work to do today which is nice - makes the day go faster"

From Tanya on Tuesday 29th March 2005
"My job!!
I have just found out they got someone permanent for my job starting Monday!!
They are happy with me and want to keep me so have asked me to move departments
to a seat where they have had about four temps in since I have been here
- but the solicitor has just said that he is happy with the present girl
So as of Friday I might not have a job!!
FARK!!
I was keen to stay until I left for Europe
Will have to let you know re change of email if it happens
My agency said that they have heaps of work
but I would like to find out soonish if I want to have work on Monday
Tanya"
......and a follow-up on Wednesday 30th March 2005
"And I am a bit stressed because I am not sure about the job situation
I just would rather just stay here to save moving again
- no one here at work knows about it yet
They are all talking about next week etc but they don't know I won't be sitting here then!"
An inter-office email on Thursday 31st March 2005
From Tanya to Anna Gillon
"Hi Anna
I have again heard rumblings
Last week Clive said that he and Daniel were happy for me to stay and work for Daniel
but I then heard yesterday that Daniel is happy with his current temp - Jackie
I don't want to bother Clive by asking again so I wonder if you could check for me
in a nice roundabout way
- I don't want to find out tomorrow that I will be on my bike!!
I would just rather some notice - you know me!
Thanx
Tanya"
Reply from Anna
"Hi Tanya
I have spoken to Clive who said they are keeping you and Jaqui is finishing
- hmmm - that was this am!
So I am assuming you are back on Monday!
Well, there is always the 'night job'....!!"
......and a note from Tanya
"Breathing easy now!!"

From Tanya on Monday 4th April 2005
"Work - and I am at my new desk today - am very busy too
Apparently they didn't tell the old temp that she wan't coming back in
and so she just turned up and I was at the desk
OOPS!
But she seemed okay
I would have gone downstairs and cried and then called my agency and yelled at them!!
Tanya"

From Tanya on Tuesday 5th April 2005
"Just as a matter of interest, my new boss is Jewish
He wears his skull cap (I think that is what it is called) every day
His wife however is an Aussie lady from Melbourne and his brother is a Rabbi
I find all that very interesting
Here are some names of people in my office:-
Sanjay Chandarana
Pushpinder Verdi
Divyesh Popat
Zohar Zik
It certainly is a lot more diverse over here that it is at home
One partner, Paul Sheeter, commutes from Israel - yes, the country!!
He flies over there every Thursday night and comes back late Sunday or early Monday
His wife and children live over there
Imagine doing that every week"


"The Official IWG Papal Sweepstake"
From Tanya on Tuesday 19th April 2005

"Here you go!!
I got Cardinal Francis Arinze - he is Nigerian
And apparently he is in with a shot!"

......and
click here
for all the details and photos

From Tanya on Tuesday 10th May 2005

"First ride in to work from Acton today
It didn't take to long at all - through Shepherds Bush which is not such a nice area
(it's not pretty at all) but then through Holland Park and Notting Hill
and then through the top of Kengsington Gardens and Hyde Park instead of the bottom
Once I got to Park Lane the route I took was exactly the same as I have been doing
It was nice to be back on the bike and it was lovely and sunny"

From Tanya on Tuesday 17th May 2005
"And busy - been having trouble getting on top of things yesterday and today
But have had a good morning and things are back on track now"
......and then on Wednesday 18th May 2005
"I worked until 7.30pm last night and feel not quite so overloaded at the moment"

From Tanya on Monday 23rd May 2005
"And by the way, it's Zohar's birthday today and he brought in fresh cream chocolate eclairs
- so yummy!!"
From Tanya on Tuesday 24th May 2005

"I am at work and very busy!!
Got 'volunteered' to work for someone else today whose secretary is away
and he is really hard to understand
I don't know why I have to do the work - there are other secs whose bosses are away
but my two are here working full on - but never mind"
"The landmarks she passes every day on her way to and from work"
From Tanya on Tuesday 31st May 2005

"Firstly, let me tell you all about my ride to work this morning
I only rode home once last week because I had a travel card and went out almost every night
so it was easier than riding home late or riding home and having to go back into town
Anyway, I rode across The Thames, down the Kings Road (posh shopping)
and through Sloane Square (more poshness) then through Belgravia
(where Gwenyth Paltrow lives but I didn't see her!!)
then down the side of Buckingam Palace and across the front of it
and past the Statue of Queen Victoria then down The Mall and past Clarence House
through Trafalgar Square, down The Strand past Charing Cross Station and The Savoy
then up Kingsway to work
When I ride home I go a slightly different way which is down The Strand,
through Trafalgar Square, down Whitehall past No 10 Downing Street,
through Parliament Square past Big Ben and The Houses of Parliament
and Westminster Abbey and all the way along The Thames past the Battersea Power Station
to The Albert Bridge then over that and home
Still can't quite get my head around the things that I go past every day!!
Mum, the Albert Bridge is the one in the movie "Love Actually" - if you have seen it,
Hugh Grant goes over it on the way to find his assistant and tell her he loves her!!
It has lots of lights on it
If you haven't seen the movie or can't remember then go to the Capsticks Boat Party Album
and you will see it
In the day time it was white and in the night time it was covered in lights.
Oh, and I rode in shorts and a singlet - it's warming up!!"
From Tanya on Friday 10th June 2005

"Just thought you might be a bit interested - quite a few of the staff here are Jewish"
Inter-office email from Daniel Ginsbury on Friday 10th June
Subject - Monday 13th and Tuesday 14th June
Due to the Jewish festival of Shavuot on these days, I will not be in, nor contactable
All calls to Tanya please on 252
Shouldn't be anything that can't await Wednesday - I have no completion dates on these days
Obviously my orthodox Jewish clients will not be contactable either,
nor will they want exchanges etc to happen on their files on these days
So any callers from solrs on the other side on their matters,
or agents should simply be told they'll get a call back on Wednesday
DG
From Tanya on Monday 20th June 2005

"So I just told work I am leaving in two weeks!! (Busabout Tour of Europe)
They seemed fine
The whole thing is a bit scary tho!!
The office manager said I was very selfish to have a holiday
and one of my bosses said that I was just leaving the UK so I didn't have to be around
when the Ashes are on - particularly after the weekend!!"
From Tanya on Wednesday 22nd June 2005

"The Human Resources dude here at work just asked me if I would be available
at the end of my three months on Busabout Europe for work for a bit
Yahoo!!"
"TANYA'S FINAL DAY AT WORK"
......and she is now heading off on her Busabout Tour of Europe!!!
From Tanya on Friday 1st July 2005

"Good morning
Last day at work!!
I am here and excited and prolly not doing as much work as I should be but I can't wait!!
No more work until October!!
I also was given my reference today - and it's good!!!
Everyone here is being nice and my boss brought me in a coffee this morning
Hey, I just got some chocs from one of my bosses - they will be for the bus trip!!"

......and click here to read Tanya's reference
......and click here for a note and photo from Nick Dineen
---